The Double Dip is the brain child of Lib Tech co-founder Pete Saari and his 40 year search for the perfect board that blends his passions; surfing, skateboarding and riding all conditions in both directions. No board we make is "just another snowboard", this one least of all. Pete has thought through, built and tested every angle on this board and it's now in a place he loves. In this post we'll dive in to the mind of a master board builder / designer / rider as Pete Saari explains his dream board, the Lib Tech Double Dip.
"The Double Dip is the product of years of experimentation with both powder specific and all terrain twin freestyle designs. The premise was to create a board that would allow you to seamlessly transition your park freestyle game into soft snow and pow conditions in both directions. THE DOUBLE DIP IS MEANT TO BE RIDDEN SWITCH HALF THE TIME anywhere you find yourself; park, pow, cat tracks, groomers, etc… ideally direction changes are connected with pleasant stylish snowboard half cabs and 180 air variations that create joy and flow."
"A boardsports tri-fecta built in, I love to surf skate and snowboard. The DD is tuned for skateboard tricks and surf lines in all snow conditions."
Pete pulled his surf / skate passion in to the design of the Double Dip. He's always standing sideways and pushing his personal best. Not pictured… fakie big spins… on lock.
"Perfect for pow mornings at your local resort that turn into freestyle cat track wall hit jib sessions as it gets tracked out. Loves playful low and mid angle pow hikes or cat trips. Stable enough to handle business in the steeps. Part of it's heart lives at Holy Bowly and it seems to guide me smoothly through most (not all) metal hazards and sketchy jibs when I ask it to."
Pete getting smoothly through the jibs… most of them
"Volume Shifted Inversion: Large gentle entry nose and tail for float in both directions with a short contact so you need to ride it 3 to 6 cm longer than your normal snowboard in order to feel like you have enough contact on hardpack and ice. I am 6' and 180bs and I ride the 163 as my daily driver."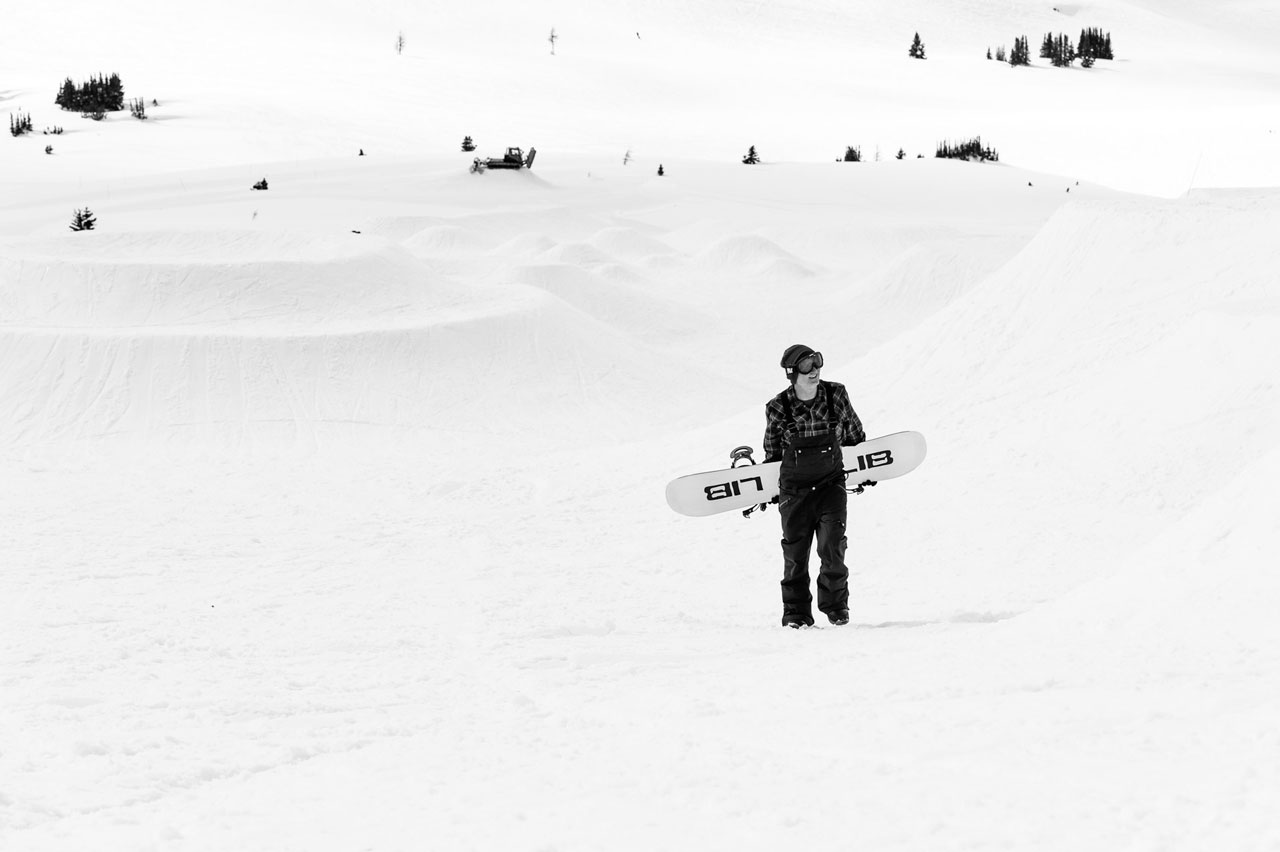 "Directional in both Directions: The large mellow lift tail becomes a supportive floaty planing surface in pow making your board feel longer, stable, floaty and positive in pow while maintaining a loose freestyle feel… flip it to switch and it all happens in the other direction."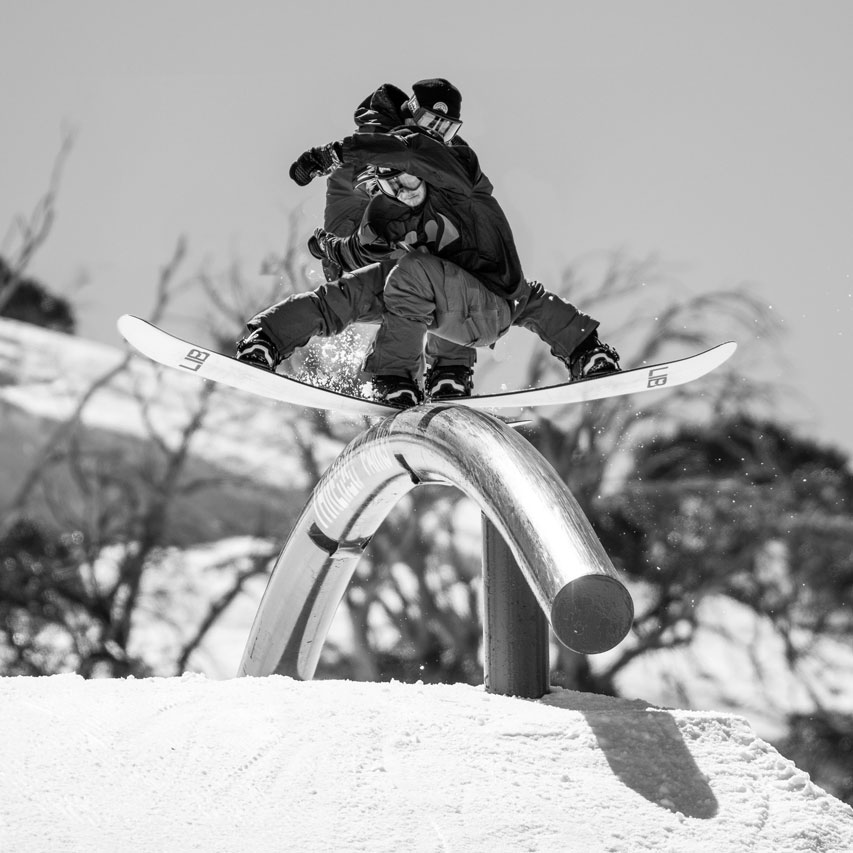 "Carver: I like to trench surfy bottom turns between hits and slashes and the Double Dip's shortened contact allows a nice carvy 8M sidecut without too much hourglass feel in the overall shape… guaranteed to make you feel like Blair or Austen carving until you actually ride with them and realize how amazing they really are."
"Art: We are fortunate enough to work with Tlingit artist James Johnson (introduced to us by Mark Landvik). We love NW native culture and art and James is working to keep his culture alive through his artwork and story telling. This painting is called Salmon Run and depicts a golden shimmering salmon swimming upstream that was inspired by his desire to bring attention to the importance of Salmon to his people in the past and the importance of taking care of the salmon and our environment for generations to come. I will be donating some funds based on sales to support James's native cultural efforts."
"Tech Basics: Sintered base, eco sublimated poly top, Magnetraction, C2 camber/rocker hybrid, Mervin Made right here in Washington USA near Canada."
"Inspiration: Some key design projects or steps that inspired the Double Dip along the way were: years of refining competition hard pack focused freestyle boards like the TRS. Early tip to tail rocker powder only twins like the Banana Hammock which quickly led us to the Skate Banana as we worked on hard pack friendly variations. Travis's Speedodeeps was also a derivative of the Hammock with improved hardpack resort performance in a twin pow stick. Olson's unsinkable floatation device nosed Birdman also shined some light on powder performance. There are too many others to list. Thanks to Steven Cobb and Mike Olson for being amazing challenging design minds to work with… love our ExperiMENTAL division, all the inspiring riders and Mervin's epic craftsmen crew. The board was pretty much made for Hyak and Hurricane Ridge with and eye on Baker, Alpental, Bachelor and Timberline in the summer, its ready for any fun freestyle friendly terrain. Seen you in the pow, park or at Holy Bowly at Sunshine Village this April!"
Thanks Pete! See more Double Dip here.
Pete teams his Double Dip with some high performing dependable Bent Metal Binding Works bindings.
The post A Double Dip Deep Dive with Pete Saari appeared first on Lib Tech Blog.