WE SAT DOWN WITH ARTISTS MIKE GIANT AND MORNING BREATH AS THEY SHARED HOW THEY GOT STARTED IN THE ART SCENE, WHY SKATEBOARDING WAS AN INFLUENTIAL PART TO THEIR UPBRINGING, AND THE INHERENT WILL TO SUCCEED
To announce our collaborations with esteemed artists Mike Giant and Morning Breath, we opened a show at the Volcom Garden in Austin, Texas which runs from Feb 10 – March 3. See below for some coverage from the opening reception and to get yourself a limited-edited Mike Giant and Morning Breath t-shirt before they're gone forever! These tees are available at the Volcom Garden and exclusively online at Volcom.com with the rest of our Garden Volcom Artist Series tees and hoodies.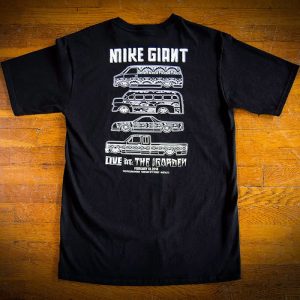 MIKE GIANT VOLCOM GARDEN ARTIST SERIES TEE
Even if you don't have a lowrider, you can still wear this shirt with pride. Most people that wear stuff with eagles on them don't actually own eagles. And the ones that do are totally breaking the law because it's illegal to own an eagle. It's also against the law to lick a policeman's mustache, but everybody knows that.
*Avaiable in two colorways
"THERE'S NO REASON YOU CAN'T ACHIEVE WHATEVER YOU WANT TO BECAUSE MOST OF IT JUST TAKES CONCENTRATION AND EFFORT AND PRACTICE." – MIKE GIANT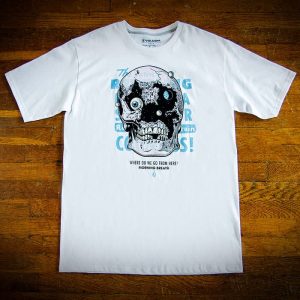 MORNING BREATH VOLCOM GARDEN ARTIST SERIES TEE
If you've ever peered into the cosmos, wondered what madness lies inside the minds of humankind, or if you simply have a skull inside of your face, this is the shirt for you. If this is not the shirt for you, I'm sorry you have such a floppy head.
"IT TAKES PASSION… THERE IS NO OTHER CHOICE FOR US. THIS IS WHAT WE ARE GOING TO DO." – MORNING BREATH